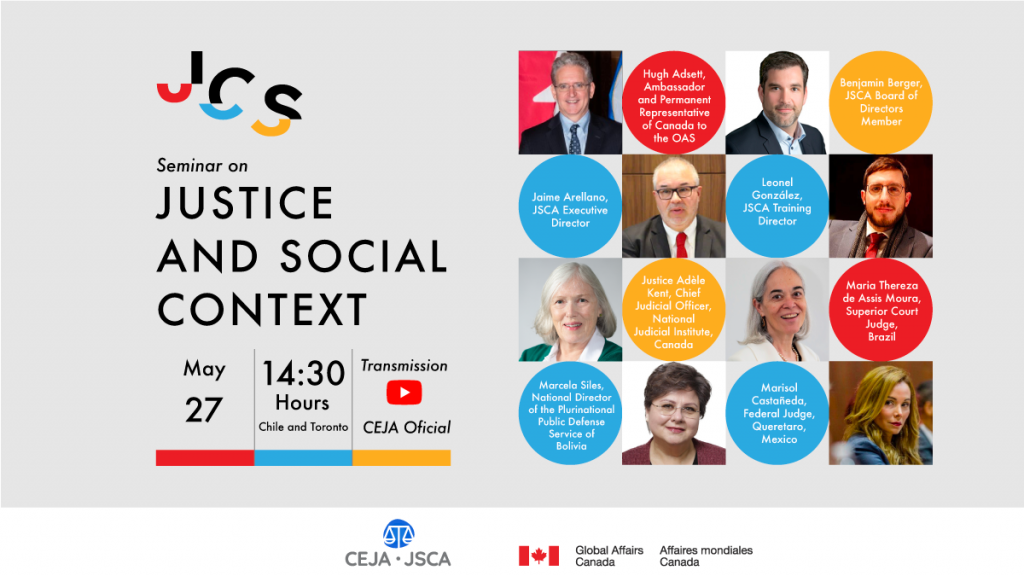 Seminar on Justice and Social Context
As part of the Global Affairs Canada (GAC) project "Improving Access to Civil Justice in Latin America," the Justice Studies Center of the Americas (JSCA) presents a publication meant to highlight a new approach to teaching by judicial operators on the social context of justice system users. The research project "Justice and Social Context" includes experiences developed in Argentina, Canada, the United States, Israel and the United Kingdom. These experiences offer various learning opportunities that contribute to reducing the risk of discrimination by judges, increasing the quality and quantity of the information that they have available to them when making a decision, generating greater trust and legitimacy through procedural justice and improving the community's response. The seminar will include the launch of the new publication, the lecture "The Evolution of Justice and Social Context in Canada," and a round-table discussion entitled "The Judicial Branch and the Gender Perspective."
To present and discuss the methodologies that judicial branches are using to increase judicial operators' knowledge of the social, cultural and racial contexts of the individuals who access the judicial system.
This seminar is directed at judicial operators, decision-makers and civil society organizations with an interest in the topic.
SCHEDULE
2:30 – 3:00 p.m.
Opening Remarks
Hugh Adsett, Ambassador and Permanent Representative of Canada to the OAS
Benjamin Berger, JSCA Board of Directors Member
Jaime Arellano, JSCA Executive Director
3:00 – 3:45 p.m.
Presentation of the JSCA publication "Justice and Social Context"
Leonel González, JSCA Training Director
3:45 – 4:30 p.m.
Conference: "The evolution of Justice and Social Context in Canada"
Justice Adèle Kent, Chief Judicial Officer, National Judicial Institute, Canada
4:30 – 6:00 p.m.
Roundtable discussion: "The Judiciary and the Gender Perspective"
Maria Thereza de Assis Moura, Superior Court Judge, Brazil
Marcela Siles, National Director of the Plurinational Public Defense Service of Bolivia
Marisol Castañeda, Federal Judge, Queretaro, Mexico
6:00 p.m.
Closing Remarks