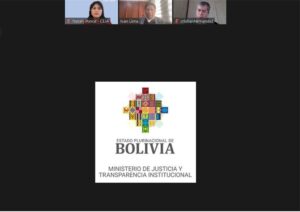 On September 15, 2022, JSCA's Executive Director Nataly Ponce and JSCA's Director of Technical Assistance, Open and Digital Justice, Cristian Hernández, held a virtual meeting with the Minister of Justice and Institutional Transparency of Bolivia, Iván Lima.
JSCA presented the JSCA Strategic Plan 2022-2026, emphasizing the five priority issues defined.
In addition to his good opinion of JSCA's work in the region, Minister Lima stated that all of JSCA's priority issues are fully in line with the Ministry's work agenda. He stated that Bolivia has been working intensively in recent years on issues of integrity, selection and performance of judges, receiving support from recognized international experts. In particular, in 2023, a popular election of judicial authorities will be held, for which the Minister expressed his interest in ensuring that the entire process has the highest standards of transparency, and that it can be supervised by international entities. In this context, he invited JSCA to be part of the international observation team for this process.
The Minister also suggested that JSCA and the Bolivian Judicial Academy continue to collaborate, and expressed his interest in JSCA providing training on new management models for judicial offices and on litigation skills for attorneys. In this regard, the possibility of establishing agreements was discussed.
Regarding the state of the Public Defender's Office in Bolivia, Minister Lima mentioned the insufficient number of public defenders in the country (58). Strengthening the Public Defender's Office is an issue in which progress must be made in Bolivia.
The Justice Studies Center of the Americas (JSCA) is an inter-governmental agency with technical and operational autonomy that was established by resolution of the General Assembly of the Organization of American States (OAS) in fulfillment of the mandates of the Plan of Action of the Second Americas Summit (Santiago, April 1998) and the recommendations adopted during the Meetings of Ministers of Justice or Other Ministers , Prosecutors, and Attorneys General of the Americas (REMJA).
JSCA provides technical assistance to governments, judicial branches, public prosecution services, and other justice institutions; develops technical studies and generates empirical evidence; facilitates the exchange of information and best practices at the regional level; and provides specialized training to justice sector operators and public policymakers in the countries of the Americas.