Daniel Petrone
President
Petrone is an attorney with a degree from Universidad de Buenos Aires who studied at the graduate level in the Universidad de Palermo Criminal Law Program. He also holds a Master's degree in Law from the same institution, and completed the Judicial Modernization and Updating Course offered by Universidad de Buenos Aires and Universidad Carlos III of Madrid.
He has served as a criminal trial judge in Buenos Aires Province, National Judge for Financial Crimes and is now a chamber judge serving on San Martín's Oral Federal Court No 2.

He has directed practical work on criminal and procedure law at Universidad de Buenos Aires and taught undergraduate courses there as well. He taught Criminal Law I at Universidad Nacional de Lomas de Zamora and Universidad Católica de Santiago del Estero, Oral Litigation Criminal Law at Universidad de Palermo and directs the Cyber Crime course at the graduate level in that program. He has participated as a trainer in various oral hearing litigation courses through the organization Unidos por la Justicia.

Mr. Petrone has served as a trainer in various regional cyber-crime workshops organized by the OAS and the U.S. Department of Justice. He is the author of several articles and author and co-author of books on criminal law, financial crimes and prison issues. He completed JSCA's Inter-American Program for Training Trainers for Criminal Procedure Reform.
---

George M. Thomson
Vicepresident
George M. Thomson, of Canada, is an attorney who earned a B.A. in Philosophy and English and LLB at Queen's University as well as a LLM at University of California at Berkeley. He has served as Executive Director of the National Judicial Institute of Canada since 1999. Prior to that appointment, he was Special Advisor to the Ministry of Justice of Canada (1998-1999), the Assistant Prosecutor at the Ministry of Justice, and the Deputy Prosecutor of Canada (1994-1998), the Deputy Prosecutor of Ontario (1992-1994), the Deputy Minister of Labor of the Province of Ontario (1989-1992) and the Deputy Minister of the People of the Province of Ontario (1989).
He served as a judge from 1982 to 1989 and as Director of Education for the Upper Canada Law Society (1985-1988). He presided over a provincial commission on social welfare reform (1985-1988) and served as Vice Deputy Minister of Community and Social Services of the Province of Ontario and was responsible for the Services for Minors Division (1977-1982). Dr. Thomson was also a professor at the Western Ontario University Law School and served as the dean of that institution in 1970 and 1971.
---

Margarita de Hegedus
Board Member
Uruguayan attorney. Professor of Procedure Law at Universidad de Montevideo (UM) and Director of the Applied Procedure Law Graduate Program and Specialization in Procedure Law and Litigation at the same institution. President of the Eduardo J. Couture Uruguayan Procedure Law Association, member of the Ibero-American Procedure Law Institute and honorary member of the Uruguayan Procedure Law Institute.
She has also taught at Universidad de la República (UDELAR), the Uruguayan Bar Association, Universidad Católica Dámaso Antonio Larrañaga (UCUDAL) of Montevideo, the Center for Judicial Research of Uruguay (CEJU), the Judicial Academy –training center for judges and future judges (which is part of the Supreme Court and Judicial Branch), and the Boston Foundation for Negotiation and Mediation (until 2006).
She has offered courses and lectures in her home country and abroad on topics in her areas of specialization (procedure law, arbitration, conciliation and negotiation) and has served as a national and international rapporteur at various national and international procedure law conferences.
She has conducted international consultancies on procedure and mediation in Bolivia, Ecuador, the Dominican Republic and Guatemala, particularly on training for the implementation of procedure reforms in civil, family and labor law. She is a senior partner with Hegedus Flores Flores Vargas Law Firm.
---

Alexis Mera
Board Member
Alexis Mera is an attorney from Ecuador who holds a Juris Doctorate (JD) from Universidad Católica de Santiago de Guayaquil (1996) and a certificate in Administrative Law from Universidad de Salamanca (Spain, 2002).
He served as assistant to Guayaquil mayor and former President of the Republic León Febres-Cordero Ribadeneyra (1993-1997).

As the advisor to the Chief Justice of the Supreme Court of Ecuador (1997-2000), Mera participated in the crafting of the law that created the National Judiciary Council. He later served as an advisor to the new institution until 2001.
He has contributed to the Constitutional Law Course at the Universidad Católica de Santiago de Guayaquil Law School and taught Political Law at Universidad de Especialidades Espíritu Santo de Guayaquil.
During his tenure as Legal Secretary of the Office of the Presidency of Ecuador (2007-2017), Mera participated in the reform of oral procedures in Ecuador's civil procedure system through the creation of the new procedure code. In that capacity he also actively contributed to the introduction of the new criminal code and other important reforms.
Mera has been a member of the Permanent Court of Arbitration, which is headquartered in The Hague, since 2015.
---

Patricia Peréz
Board Member
Patricia Pérez holds a law degree from Universidad de Valparaíso. She is one of five women who have served as Chile's Minister of Justice. During her term, she introduced a new alternative sentencing law, designed a progressive model for implementing electronic monitoring and sought to strengthen non-custodial sanctions. Pérez also introduced a prison policy with a gender approach for the first time in Chile's history and worked on special measures for women and members of the LGTBI population, among other initiatives.
Prior to serving as Minister of Justice, Pérez was Undersecretary of Justice and worked in the Criminal Public Defender's Office for ten years as a litigator and advisor.
She holds an honorary doctorate from California Western School of Law and a master's degree in Criminal Law and the Criminal Sciences from Universidad Católica de Valparaíso.
She is currently a Real Estate Registrar and is pursuing a doctorate at Universidad de Valparaíso. She was chosen as one of the 100 Women Leaders of Chile in 2007 and 2013 by the newspaper El Mercurio for her contribution to public service.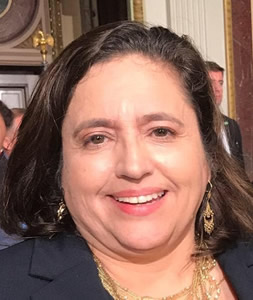 Jenny Murphy
Board Member
Jenny Willlier Murphy is a Rule of Law subject matter expert with more than 20 years of experience through various positions at the US Agency for International Development (USAID), the State Department and international development firms such as Creative Associates International. In her US Government positions, Mrs. Murphy has provided technical assistance globally on rule of law issues to US Embassies through her work at USAID and the State Department's Bureau of International Narcotics Affairs and Law Enforcement Affairs (State/INL) including justice sector, citizen security and security sector reform programming.
At the State Department, she also worked in the political section of the US Mission to the Organization of American States (USOAS Mission) where she was assigned the hemispheric security portfolio. As a Senior Rule of Law Advisor, Mrs. Murphy provided USAID Missions globally with technical assistance on judicial and legal reform issues, particularly to improve the administration of justice and access to justice.
She also collaborated with the donor community and the US government interagency coordination on rule of law foreign assistance funding, design and programming, with the OAS, UNDP, the World Bank and with International Judicial Relations Committee of the US Judiciary. Furthermore, she has provided technical assistance to Latin American countries on legal and judicial reform efforts, included but not limited to, implementation of new criminal procedure codes and the administration of justice.
Mrs. Murphy has a Bachelor of Arts in Foreign Affairs and Spanish from the University of Virginia and a Juris Doctorate from American University, Washington College of Law. She is bilingual in English and Spanish.

Maytrie Kuldip Singh
Board Member
Maytrie Kuldip Singh is an appeals court judge in Suriname and holds a law degree from University of Suriname. She served as a jurist for an NGO from 2000 to 2003 and then completed an internship in a law office. She trained as a judge from 2004 to 2008 and has served as a first instance appeals court judge for criminal and civil cases since 2009. In addition, she manages education portfolios for judges in training and is an examining judge for criminal cases and legal assistance with the courts of the Netherlands. She trained prosecutors in the examining judge's office during February and March 2019. In October 2019, she was appointed examining judge for criminal cases and legal assistance in the Netherlands, and will hold that post until 2023. She joined the JSCA Board of Directors in January 2020 and will complete her term in 2022.