Marco Fandiño Castro
Research and Projects Director
Fandiño, of Spain, is an attorney with a law degree from Universidad de Santiago de Compostela. He also completed the Program in Latin American Studies at Universidad Católica Argentina and a master´s degree in Governance and Human Rights at Universidad Autónoma de Madrid.
He began to work at JSCA as a research attorney in January 2013 and was later promoted to Coordinator of the Management and Information and Research and Projects Areas. He is currently the Center's Director of Research and Projects.
He has participated as a trainer or advisor on judicial reform processes in Argentina, Bolivia, Brazil, Chile, Guatemala, Honduras, Mexico and Uruguay. He has served as a consultant for international agencies such as the United Nations Development Program (UNDP), the Open Society Foundations (OSF) and the United Nations Office against Drugs and Crime (UNODC). He also has served as a consultant for national institutions including Chile's Ministry of Justice and Human Rights, Chile's Public Defender's Office, Uruguay's Ministry of the Interior and Guatemala's Public Prosecutor's Office.
His publications include Comparative Studies on Civil Justice System Reform: Germany, Spain and Uruguay (Director, 2018); Multidisciplinary Dialogue on Civil Justice Reform (Co-Director, 2018); Challenges of Criminal Procedure Reform in Chile: A Retrospective Analysis after Over a Decade (Co-author, 2017); Civil Mediation Manual (Co-author, 2017); Alternatives to the Judicial Process for Promoting Access to Justice (Coordinator, 2016); and Evaluation of the New Management Model of Guatemala's Public Prosecutor's Office (Co-Author, 2014).
Fandiño specializes in criminal procedure reform, civil procedure reform, access to justice and alternative dispute resolution mechanisms.
He is a member of the UNESCO Chair for a Culture of Peace and Human Rights at Universidad Autónoma de Madrid.
E-mail: marco.fandino@cejamericas.org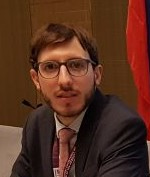 Leonel González Postigo
Training Director
Argentine attorney specializing in Criminal Law with a degree from the Universidad de Buenos Aires Law School. He completed the Latin American Certificate Program on Criminal Procedure Reform at Universidad Diego Portales Law School (Chile) and is currently pursuing a master's degree in Criminal Law and Criminal Procedure from Osgoode Hall Law School at York University (Canada).
He served as a consultant on the Evaluation of the Implementation of Panama's Adversarial Criminal Justice System; the Evaluation of the Impact of the Fiscal Management Model of Guatemala's Public Prosecutor's Office; the project "Evaluation of Chile's Criminal Procedure Reform Ten Years After Its National Implementation"; on the project Technical Assistance for the Implementation of Uruguay's Criminal Procedure Code; and on the project "Pretrial Detention in Bolivia."
He has participated as a presenter or instructor in seminars, courses and conferences in the US, Canada, Austria, the Philippines, Mexico, Puerto Rico, Costa Rica, Nicaragua, Colombia, Guatemala, Panama, Peru, Paraguay, Brazil, Bolivia, Chile, Uruguay and Argentina.
He is the Regional Vice President for South America of the International Organization for Judicial Training (IOJT) for 2017-2019 and member of the Argentina Procedure Law Association. He has worked in the Federal Criminal Cassation Chamber in the Argentine National Judicial Branch and at the Institute for Comparative Studies in the Criminal and Social Sciences (INECIP).
E-mail: leonel.gonzalez@cejamericas.org

---
Lorena Espinosa Olguín
Research Associate
Espinosa, of Chile, holds a law degree from Universidad Diego Portales (UDP). Her interests and experience are related to justice, public policy, and gender. She coordinated the design of JSCA's Gender Equality Policy and is currently coordinating its implementation. Espinosa is a member of the first Chilean Feminist Attorneys' Association, ABOFEM.

She has trained judicial officials in Nicaragua, Costa Rica, Bolivia and Argentina and was an instructor in the first version of the Inter-American Training Program on Civil Justice Reform. She is the co-author of the "Report on Judicial Management and the Use of Oral Procedures in Uruguay's Civil Justice System" and the first report of the Observatory of Civil Conflict and Access to Justice, OCCA, which was entitled "Civil Conflict and Barriers to Access to Justice in Latin America: A Report on Housing and Land." She participated in the consultancy for the UNDP entitled "Assessment of Pretrial Detention in Bolivia." Espinosa has worked on technical assistance projects in Argentina, Costa Rica and Nicaragua and on the implementation of a pilot plan for modernizing judicial management in six courts in Cochabamba, Olivia. She is currently part of the permanent OCCA team and is conducting various comparative studies at the Latin American level.

As a student, she volunteered with the Santiago Legal Clinic and was a teaching assistant in the Universidad Diego Portales Procedure Law Department. She was a member of the university's Procedure Law Seedbed, a group of undergraduate students who conduct research in that field, and represented UDP at the XIII International Undergraduate Student Competition organized by the Colombian Procedure Law Institute (ICDP). At the competition, she presented the research project "The Impact of Amicus Curiae Cases on Chilean Constitutional Court Decisions."

After completing her undergraduate studies, she was a teaching assistant with the UDP Procedure Law Department until 2017 and for the course "Alternative Dispute Resolution Systems" until 2016. Prior to that, Espinosa worked in a law firm that created an arbitration court and was later a judicial inspector. Before joining JSCA's staff, she worked in an office that conducted title research.
E-mail: lorena.espinosa@cejamericas.org
---

Gonzalo Fibla
Research Associate
Chilean. Attorney with a law degree from Universidad Católica del Norte and a Certificate in Public Policy from Universidad Católica de Chile. He also is a candidate for a master's degree in Government and Public Management from Universidad de Chile. He has experience in project design, implementation and monitoring as well as quantitative and qualitative research.
He currently coordinates the project on economic, social, cultural and environmental rights in Latin America with the German Cooperation Agency GIZ-DiraJus. He also has participated in the design and implementation of local and comparative research studies on justice with Global Affairs Canada and is a researcher and member of the Observatory on Civil Conflict and Access to Justice (OCCA).
In addition, at JSCA he was responsible for technical cooperation with the Ministry of the Interior of Uruguay and the Mission to Support the Fight against Corruption and Impunity in Honduras (MACCIH) developed by the Organization of American States (OAS). He also worked as the General Coordinator and co-author of the study Challenges of Criminal Procedure Reform in Chile: Retrospective Analysis after More than a Decade with Chile's Ministry of Justice and Human Rights.
He worked as a teaching and research assistant in Constitutional Law and Human Rights at Universidad Católica del Norte, focusing on research on crime victims, the right to the truth and the right to memory. His thesis on crime victims was awarded an honorable mention from the Chilean National Human Rights Institute (2014).
Areas of interest: Access to justice, criminal justice, victims, human rights, management and public policy.
E-mail: gonzalo.fibla@cejamericas.org
---

Alejandra Bocardo
Researcher
Bocardo, of Mexico, holds a master's degree in Political Science and Planning from the London School of Economics and Political Science as well as an undergraduate degree (which she completed with honors) from the Instituto Tecnológico y de Estudios Superiores de Monterrey. She also completed a certificate in Human Rights and Citizen Security that was offered by the same institution in cooperation with the Nuevo León State Human Rights Commission.

Between 2012 and 2016, she worked in the Criminal Justice Reform and Research Area of Institución Renace in Mexico. She was responsible for various research and outreach projects at the Citizen Justice Observatory, a public initiative for monitoring in the implementation of the procedure reform in several regions of Mexico. She also was part of the research team for the Program to Promote and Monitor Criminal Justice Reform in Mexico, evaluating the performance of the criminal justice system. She coordinated the development of the model of indicators for evaluating the criminal justice system from a human rights approach.
Bocardo completed internships in the Regional Office of the UN High Commission for Human Rights in Santiago and the Mexico City Human Rights Commission.
E-mail: alejandra.bocardo@cejamericas.org
---

Ananías Reyes Vidal
Research Associate
Reyes, of Chile, holds an undergraduate degree in the Legal and Social Sciences from the Universidad de Chile Law School. hhe is part of the Observatory on Civil Conflict and Access to Justice in Latin America and has co-authored the entity's reports.

He joined JSCA in 2017 as an intern, working as a research assistant on a technical cooperation project with the Uruguayan Ministry of the Interior to advise it on the implementation of the new Criminal Procedure Code.

He contributed to the updating and deployment of the JSCA virtual course on Public Prosecutor's Offices in Latin America.
Reyes has served as Legal Representative at the law firm of Montt & Cía. and as the co-Coordinator General of the Student Conference on Human Rights developed at Universidad de Chile Law School. In addition, he has volunteered with Leasur ONG and the Observatory on Institutional Violence in Chile (OVIC).

His final project as an undergraduate focused on the Granting of Prison Benefits to Inmates Convicted of Crimes against Humanity in Chile, and he is the co-author of a publication on the topic.
E-mail: ananias.reyes@cejamericas.org
---

Natalia Acevedo
Research Assistant
Acevedo, of Chile, is an attorney with a degree from Universidad Alberto Hurtado. She has also completed a course on Women's Human Rights and served as an intern and then research assistant focusing on environmental law at the NGO FIMA. Acevedo also completed a professional practicum at Cordillera Women's Center (SERNAMEG), representing socio-economically disadvantaged women at trial in cases of intrafamily violence. She has offered training on the topic of intrafamily violence and gender to members of state agencies and civil society. Natalia is currently a member of the Academic Research Commission, the Human Rights Commission and the LGBTIQ+ Commission of the Chilean Association of Feminist Attorneys.
E-mail: natalia.acevedo@cejamericas.org
---

María José del Solar C.
Research Assistant
Solar, of Chile, holds a degree in the Legal Sciences from Universidad de Tarapacá. She also completed a course entitled "Critical Studies in Law and Society" offered by the Latin American Social Sciences Council (CLACSO). As a university student, she served as a teaching assistant for the course Criminal Procedure Law and Appeals in 2016 and 2017, and wrote her thesis on evidence in criminal procedure. Her work focused on the analysis of regulations regarding suspension of the procedure in the event of suspicion of mental alienation and its effect on protective measures in Chile's criminal procedure reform. She completed her professional practicum at the Public Defender's Office for the Tarapacá Region.
E-mail: mariajose.delsolar@cejamericas.org
---
ADMINISTRATIVE AREA

María José Lazo Saavedra
Administration and Finance Director
Chilean. General Accountant specializing in Tax Legislation with a degree from Instituto Duoc UC. She is currently pursuing a degree in Auditing. She has worked at Universal Freight Service S.A. as an Assistant and Supplier Analyst and at Travel Club-Banco de Chile as an Analyst in the Treasury. She has experience as a SAC Executive at Sonda S.A. and worked in the billing area at Cruz y Cía Ltda. Her experience covers the areas of accounting, administration and sales.
E-mail: mariajose.lazo@cejamericas.org
---

Sandra Araneda Jofré
Event Coordinator – IT Coordinator
Sandra Araneda, of Chile, is a bilingual executive assistant with a degree from the Esucomex Professional Institute. She also has earned a certificate in Joomla! Web Content Administration System Technology from Universidad de Chile and has completed courses on Internet applications, Webpage development and Web servers at SEGIC at the Universidad de Santiago de Chile.
She worked at the University of Santiago de Chile, as an Executive Assistant from January 1990 to December 2003. She currently serves as Event Coordinator, Webmaster, Head of the IT Department and Assistant Executive Director of the Justice Studies Center of the Americas – JSCA.
E-mail: sandra.araneda@cejamericas.org
---

Carola Benitez
Events Assistant
Chilean. She has worked at Duoc UC as a secretary and as a receptionist at the Carlson Wagonlit Travel Agency in Chile, where she provided support to the agency's sales area. She also worked at Viajes Blanco Travel Agency, where she provided support for the sales and cruise areas.
E-mail: carola.benitez@cejamericas.org
---

Marcela Merino Ramos
Accountant
Chilean, is an accountant-auditor with a degree from the Instituto Duoc UC. Prior to joining JSCA, she served as an accounting assistant in the company Latam Horizons Lighting Chile S.A. and as an audit assistant at Contadores Auditores Asociados S.A.
E-mail: marcela.merino@cejamericas.org

Tiare San Martín
Assistant Account
Chilean, General Accounting Student at the Duoc UC Professional Institute. He worked in Management and Investment Company Vaccaro Ltda. As administrative assistant and accountant.

Guillermo Morales P.
Office Assistant
Guillermo Morales, of Chile, worked at the Graphics Workshop for the Council of Rectors of Chilean Universities as an assistant from 1971 to 1973. He also served as a press office worker at the University Promotion Corporation from 1974 to 2006. He has worked at JSCA since February 2010, where he handles maintenance and administrative tasks.