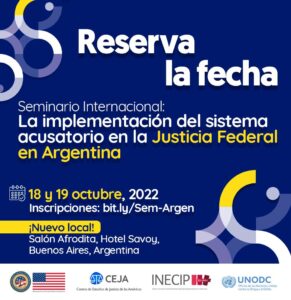 The Justice Studies Center of the Americas (JSCA), in partnership with the International Narcotics and Law Enforcement (INL) agency of the U.S. Embassy in Argentina, the Institute for Comparative Studies in Criminal and Social Sciences (INECIP) and the United Nations Office on Drugs and Crime (UNODC), announce the International Seminar "The Implementation of the Adversarial System in the Federal Criminal Justice System in Argentina". Download program in spanish
The Seminar has two objectives: on the one hand, to share national and international experience in the implementation of an adversarial system; and on the other, to present the main results of the project that JSCA, INECIP and UNODC are carrying out with funding from the INL agency of the U.S. Embassy in Argentina.
This event will be held on October 18 and 19, 2022, at the Salón Afrodita, Hotel Savoy (Av. Callao 181),  Buenos Aires, Argentina, from 2:15 pm to 7:30 pm. The event is free of charge. To participate, register here.
The Justice Studies Center of the Americas (JSCA) is an inter-governmental agency with technical and operational autonomy that was established by resolution of the General Assembly of the Organization of American States (OAS) in fulfillment of the mandates of the Plan of Action of the Second Americas Summit (Santiago, April 1998) and the recommendations adopted during the Meetings of Ministers of Justice or Other Ministers , Prosecutors, and Attorneys General of the Americas (REMJA).
JSCA provides technical assistance to governments, judicial branches, public prosecution services, and other justice institutions; develops technical studies and generates empirical evidence; facilitates the exchange of information and best practices at the regional level; and provides specialized training to justice sector operators and public policymakers in the countries of the Americas.