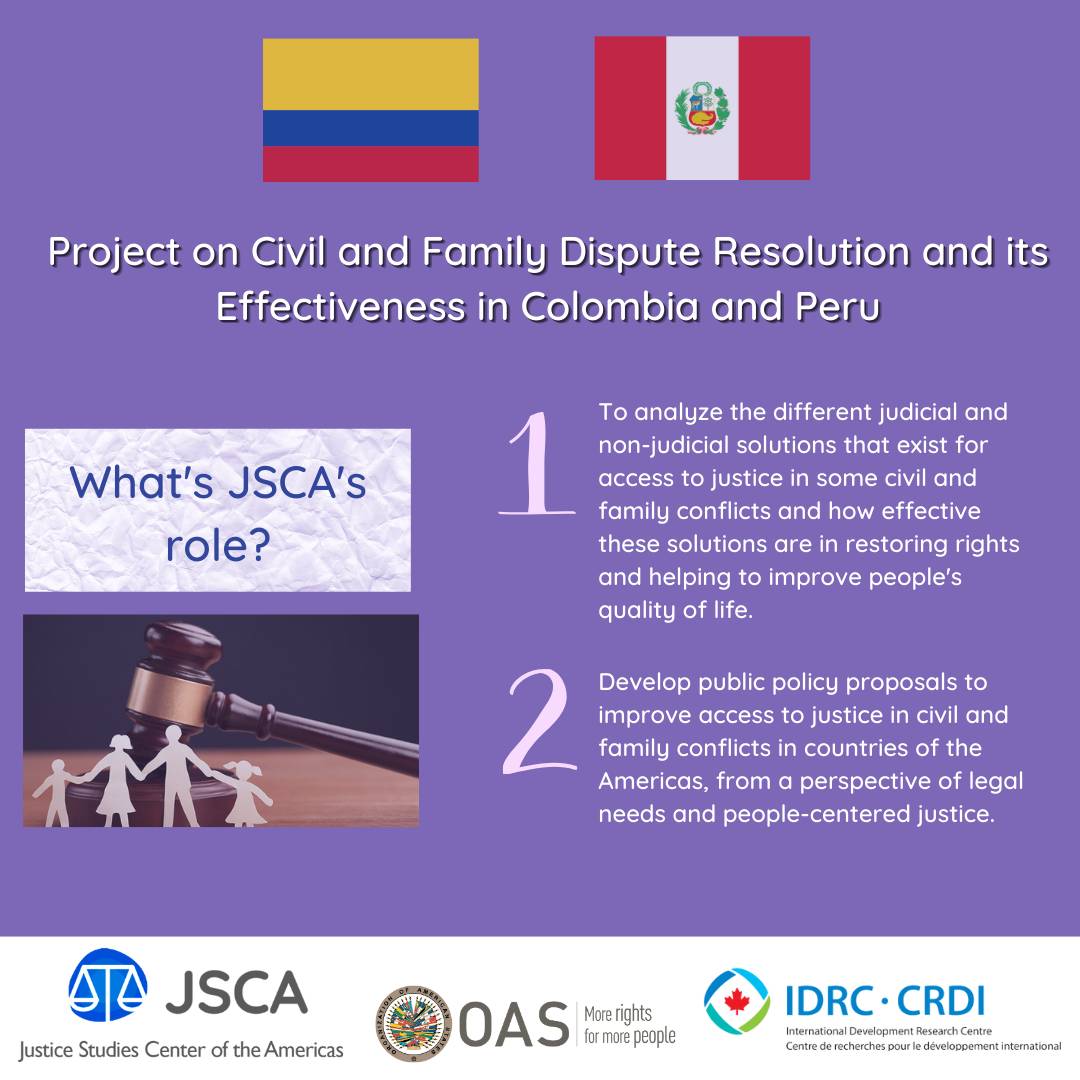 The Justice Studies Center of the Americas (JSCA) informs that it is in the initial phase of implementing the project "Civil and Family Dispute Resolution and its Effectiveness in Colombia and Peru," in partnership with the International Development Research Centre of Canada (IDRC).
This is an unprecedented project, with a people-centered approach to justice, which will examine from a comparative perspective the efficiency of the formal and informal justice systems in resolving citizen conflicts in family matters. CEJA will undertake quantitative and qualitative data collection, along with territorial visits and dialogue processes with authorities and civil society organizations, to analyze the different judicial and non-judicial means of solution that exist for access to justice in the area of civil and family conflicts in a selected group of cities in Peru and Colombia. The effectivness of these available means for restoring rights and helping to improve the quality of life of the people affected will be evaluated.
This study will allow for the identification and characterization of the different avenues or paths that people follow to obtain justice in civil and family conflicts, as well as the elements that facilitate or hinder access to these avenues. Based on the findings of the study, public policy proposals will be developed to improve access to justice in civil and family disputes in the countries of the Americas.
The project's implementation began in February 2023 and will last for two years.
Subscribe to the JSCA newsletter here and follow the social networks to learn about the implementation of this and other projects with a people-centered justice approach in the Americas.
The Justice Studies Center of the Americas (JSCA) is an intergovernmental body of the Inter-American System with technical and operational autonomy, created by the OAS General Assembly in 1999, whose mission is to support the processes of reform and modernization of the systems justice in the Americas.
JSCA provides technical assistance to governments, judiciaries, public ministries and other justice institutions; prepares technical studies and generates empirical evidence; facilitates cooperation processes at the regional level; and provides specialized training to justice policymakers and operators in the countries of the Americas.