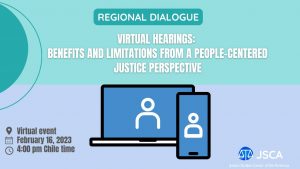 The Justice Studies Center of the Americas (JSCA) announces that it will hold an event on the contributions and limitations of virtual hearings, on February 16, 2023, from 4:00 p.m. to 6:00 p.m. (Chilean time), in a virtual format.
Held in the post-confinement context following the COVID-19 pandemic which forced the courts of justice to take urgent measures (teleworking, virtual hearings and electronic notifications) in order to provide continuity to their services, the purpose of this event is to reflect on the face-to-face or virtual nature of oral hearings, taking into account different points of view, especially that of users of justice services, and the comparative experience in the region.
High level panelists who have played a leading role or have proposed changes to be implemented for oral hearings will participate:
Diana Remolina
Magistrate of the Superior Council of the Judiciary of Colombia
Sergio Muñoz
Minister of the Supreme Court of Justice of Chile
Justiniano Montero
Magistrate of the Supreme Court of Justice of the Dominican Republic
Maria Victoria Rivas
Executive Director of the Center for Judicial Studies of Paraguay
Laurence Pantin
Coordinator of the Transparency in Justice Program of Mexico Evalúa
The development of the discussion will be guided by triggering questions on the use of virtual audiences.
Register now by filling out this form.
The Justice Studies Center of the Americas (JSCA) is an intergovernmental body of the Inter-American System with technical and operational autonomy, created by the OAS General Assembly in 1999, whose mission is to support the processes of reform and modernization of the systems justice in the Americas.
JSCA provides technical assistance to governments, judiciaries, public ministries and other justice institutions; prepares technical studies and generates empirical evidence; facilitates cooperation processes at the regional level; and provides specialized training to justice policymakers and operators in the countries of the Americas.