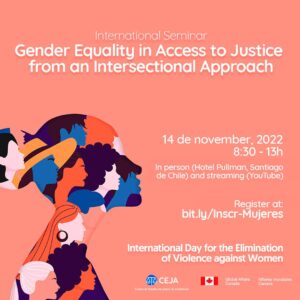 The Justice Studies Center of the Americas (JSCA) announces the International Seminar: Gender Equality in Access to Justice from an Intersectional Approach, to be held on November 14, 2022, from 8:30 am to 1 pm, in a hybrid format: in-person (Hotel Pullman, Roger de Flor 2770, Las Condes, 7550179, Metropolitan Region, Chile) and online (JSCA's YouTube channel).
The Seminar, held in the framework of the International Day for the Elimination of Violence against Women – 25N, aims to address the progress and structural and operational challenges in order to contribute to achieving gender equality in access to justice in the Americas, identifying the main gender gaps and barriers, as well as good practices in this field.
The following panels will take place:
Gender and Intersectionality:
Intersectionality as a tool of analysis
Why gender and access to justice?
Right to equality and non-discrimination in access to justice:
Migrant women
Women deprived of their liberty
Indigenous and Afro-descendant women
Where are we and where are we going in relation to gender inequalities in access to justice?
Experiences in the region:
Model of action to guide, assist and protect migrant, cross-border and refugee women victims of violence in the Canton of Upala Costa Rica.
Protocol for the Care of Foreign Indigenous Women Deprived of Liberty
Protocol for rural women for access to justice and land
Check out the program here.
Register here to participate in this event. Space is limited for on-site participation
The Justice Studies Center of the Americas (JSCA) is an inter-governmental agency with technical and operational autonomy that was established by resolution of the General Assembly of the Organization of American States (OAS) in fulfillment of the mandates of the Plan of Action of the Second Americas Summit (Santiago, April 1998) and the recommendations adopted during the Meetings of Ministers of Justice or Other Ministers, Prosecutors, and Attorneys General of the Americas (REMJA).
JSCA provides technical assistance to governments, judicial branches, public prosecution services, and other justice institutions; develops technical studies and generates empirical evidence; facilitates the exchange of information and best practices at the regional level; and provides specialized training to justice sector operators and public policymakers in the countries of the Americas.