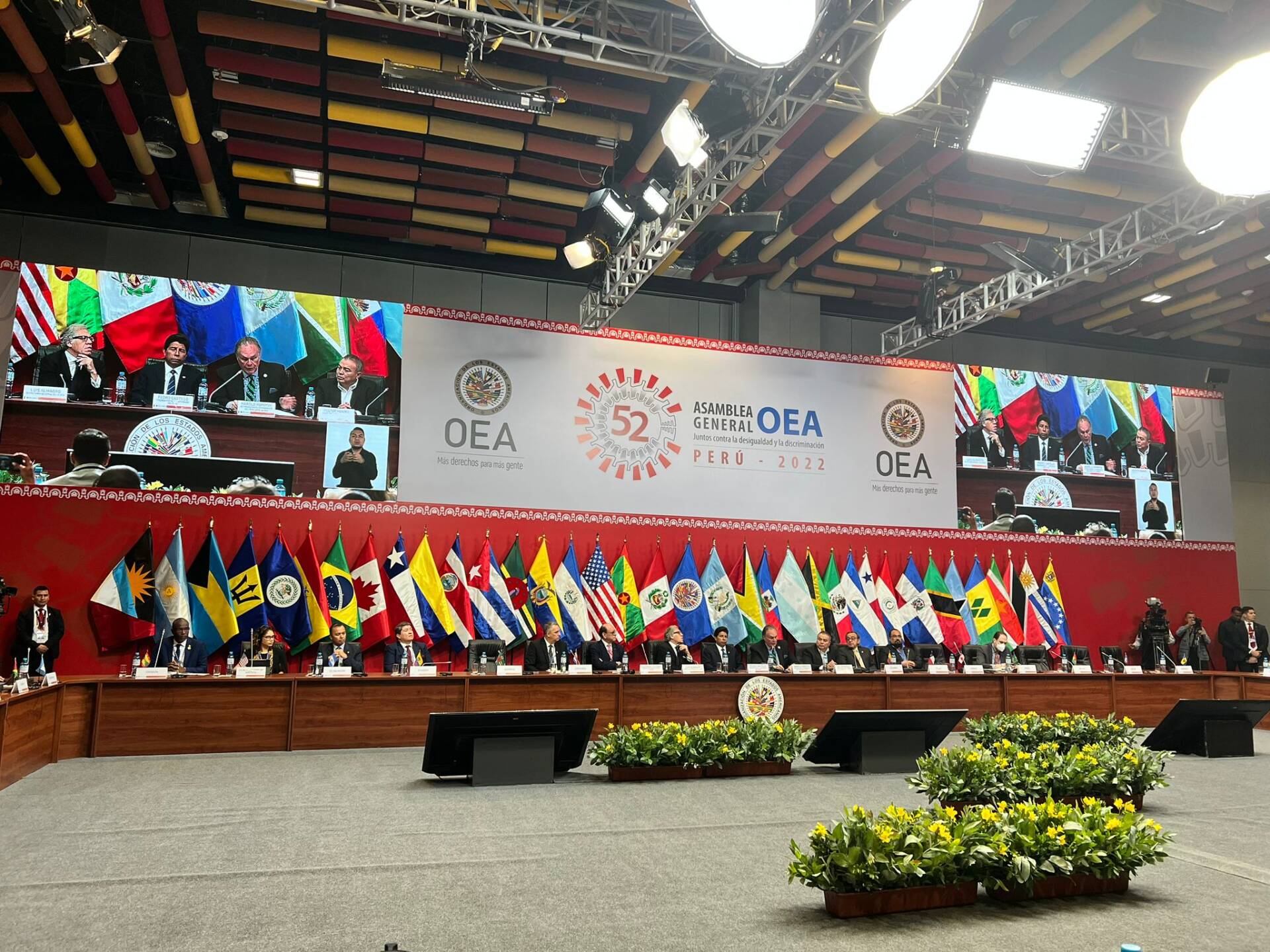 On October 7, 2022, the Organization of American States (OAS) concluded its 52nd General Assembly, held in Lima, Peru, in which the Member States elected Nicolás Soler, from Argentina, and Cecilia Barrios, from Guatemala, as new members of the Board of Directors of the Justice Studies Center of the Americas (JSCA).
The Board of Directors is JSCA's highest body and is integrated by seven professionals with extensive experience in the construction of public policies and the modernization of justice in the hemisphere. Nicolas Soler and Cecilia Barrios will take office on January 1, 2023, for a period of 3 years.
The theme of the 52nd OAS General Assembly was "Together against inequality and discrimination". The President of JSCA's Board of Directors, Jenny Murphy, and JSCA's Executive Director, Nataly Ponce, participated in the event.
"The 52nd OAS General Assembly has been an important platform for States, civil society and international organizations to address equality and equitable treatment for all people, especially gender equality and access to justice for the migrant population. In addition, two new members have been appointed to the Board of Directors of our institution, from Argentina and Guatemala; we are confident that both will contribute to the work that JSCA carries out to strengthen democracy, the rule of law and access to justice in the Americas," said JSCA Executive Director Nataly Ponce.
The Justice Studies Center of the Americas (JSCA) is an inter-governmental agency with technical and operational autonomy that was established by resolution of the General Assembly of the Organization of American States (OAS) in fulfillment of the mandates of the Plan of Action of the Second Americas Summit (Santiago, April 1998) and the recommendations adopted during the Meetings of Ministers of Justice or Other Ministers, Prosecutors, and Attorneys General of the Americas (REMJA).
JSCA provides technical assistance to governments, judicial branches, public prosecution services, and other justice institutions; develops technical studies and generates empirical evidence; facilitates the exchange of information and best practices at the regional level; and provides specialized training to justice sector operators and public policymakers in the countries of the Americas.