On May 12, 2022, JSCA Executive Director Nataly Ponce participated in the International Symposium on Best Practices for Combating Public Corruption, which was held in Cartagena, Colombia. The event was organized by the US Embassy in Bogotá and the Bureau of International Narcotics and Law Enforcement Affairs (INL).
Ms. Ponce was part of the panel on special anti-corruption jurisdictions along with Ivan Velasquez, the former Commissioner of the International Commission against Impunity in Guatemala (CICIG), and Alberto Mora, the Executive Director of Global Programs of the American Bar Association (ABA ROLI).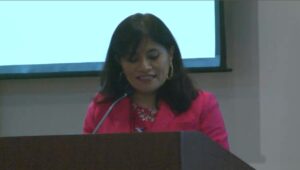 JSCA's Executive Director shared lessons learned by the institution over the course of its history through the development of several comparative studies and research projects that analyze the capacities of the justice systems of the Americas to address corruption and complex crimes.
She also addressed the structural challenges facing justice systems and serious risks and setbacks in the institutional structure and autonomy of justice institutions. Her presentation also focused on the progress made and lessons learned by specialized teams of justice operators who focus on the fight against corruption and the experiences of criminal analysis units within police and prosecution entities.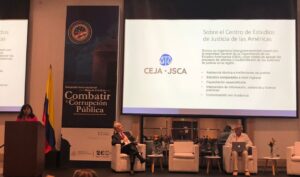 In her remarks, Ms. Ponce stated that JSCA's research shows the importance of timely access to data from various public and private institutions for effective criminal investigation and prosecution of complex corruption in Latin America.
A pdf version of her presentation is available online.