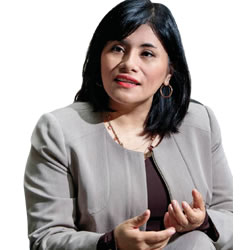 Peruvian attorney Nataly Ponce has been appointed the new Executive Director of the Justice Studies Center of the Americas (JSCA) for the 2022-2025 term. Ms. Ponce has over 20 years of international professional experience
with topics such as democratic strengthening, justice reform, human rights, environmental justice, anti-corruption efforts and public safety. She has worked in 10 countries in the Americas and has held high-level jobs in public, international, academic and civil society organizations.
Ms. Ponce is currently evaluating cooperation projects for development for the US company EnCompass LLC-MELS. Prior to that role, she served as Vice Minister of Women in the Ministry of Women and Vulnerable Populations of Peru, Vice Minister of Public Safety in the Ministry of the Interior of Peru, worked as a consultant for various international agencies and taught graduate courses at Pontificia Universidad Católica del Perú.
The next Executive Director of JSCA holds a master's degree in Political Science and Government from Pontificia Universidad Católica del Perú and a master's degree in Latin American Studies from Pontificia Universidad Javeriana de Colombia. She received a scholarship to participate in the US Department of State's Administration of Justice and the Rule of Law Program and has completed graduate work in Canada, the United States, Chile, Argentina and other countries.
Ms. Ponce will join JSCA's team in January 2022. She will succeed Jaime Arellano, who completed two four-year terms at the helm of the Center.