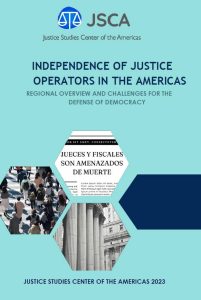 After months of research, the Justice Studies Center of the Americas (JSCA) published the book "Independence of Justice Operators in the Americas. Regional Situation and Challenges for Democratic Defense". This material responds to JSCA's Strategic Plan, developed through a participatory process that involved the collaboration of 760 people from different countries. "Our focus has always been to look beyond the external independence of justice operators and pay attention to the internal risks that arise in judicial institutions" said Nataly Ponce, JSCA's Executive Director, at the book's launch in Washington, DC.
The study presents three key findings:
1) There is a serious deterioration of democracy and the rule of law in Latin America and the Caribbean, associated with the weakening of the independence of justice operators.
2) There are highly visible and subtle effects and risks for judges and prosecutors.
3) There is a direct relationship between the effects and risks that go beyond the existing categorizations and go beyond the progress made in terms of international standards.
"The identified malpractices predict a possible threat to the independence of the operators and their impact on the weakening of the rule of law and democracy. "We would have liked the numerical and qualitative data to lead us to another conclusion, but we complied with the technical work of gathering the evidence in an impartial manner" said Nataly Ponce. The presentation in Washington, DC emphasized the deterioration of democracy in the region. According to data from Global State of Democracy, in 2021 the Americas will have lower indicators than in 1975.
The findings of the study were commented on at the launch by Adriana Orocú, President of the Latin American Federation of Magistrates and Judges.
"There is a palpable democratic backsliding in this region that goes directly against the judiciary and has created risks in the exercise of the administration of justice. Impunity and corruption have increased, and the effectiveness of the institutional framework to combat this has diminished" he said.
"JSCA's report reaffirms what we experience daily  the decline of judicial independence. This is directly detrimental to citizens, who expect judges to be impartial. Every day it is more difficult to be independent due to the democratic backsliding that the region is experiencing", concluded Orocú.
To address this situation, the research proposes a road map with six points, adaptable to the reality of each country.
"Our study concludes that prosecutors need specific regulation in terms of international human rights treaties, and it is necessary to develop specific standards for their protection" concludes Nataly Ponce.
The book is completely free and open to the public. To read it click here