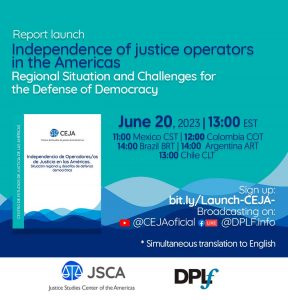 The Center for the Study of Justice in the Americas (JSCA) announces the launch of its new publication "Independence of Justice Operators in the Americas: Regional Situation and Challenges for Democratic Defense," on June 20, 2023, at 1 PM (Washington DC time), in a hybrid format (in-person in WDC and via the JSCA YouTube channel).
This publication was developed as part of CEJA's strategic planning process in 2022, which involved discussions with dozens of relevant actors from different countries in the region. These discussions revealed a common concern about the increasing deterioration of judicial independence and the independence of justice operators in the region.
Based on this, CEJA prioritized the development of a roadmap to support the improvement of current levels of independence for justice operators in Latin America, while also contributing to the strengthening of the rule of law and democracy.
The event will feature high-level panelists who have played a leading role or proposed changes to be implemented for oral hearings. The panel discussion will revolve around key questions regarding the use of virtual hearings.
To join the event virtually, click here.
The Center for the Study of Justice in the Americas (JSCA) is an intergovernmental body of the Inter-American System with technical and operational autonomy. It was created by the General Assembly of the OAS in 1999 with the mission of supporting justice system reform and modernization processes in the Americas.
CEJA provides technical assistance to governments, judiciaries, public ministries, and other justice institutions. It conducts technical studies and generates empirical evidence, facilitates regional cooperation processes, and provides specialized training to justice operators and policy decision-makers in the Americas.