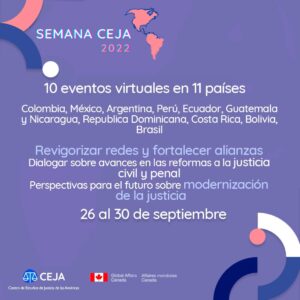 The Justice Studies Center of the Americas (JSCA) announces the JSCA Week 2022, which will take place from September 26 through September 30. Throughout the week, 10 virtual meetings will be held to discuss progress and challenges in civil and criminal justice reforms in the hemisphere.
The meetings will be held by country for a dialogue focused on what has been achieved to date in terms of justice reforms and the prospects for the future of justice in each of the countries. Representatives of CEJAREDEX (JSCA training alumni network) from each of the countries will participate and present on the situation in their country.
The 11 JSCA Week 2022 countries are: Colombia, Mexico, Argentina, Peru, Ecuador, Guatemala and Nicaragua, Dominican Republic, Costa Rica, Bolivia, Brazil.
JSCA invites justice system institutions, civil society organizations, academia, CEJAREDEX and other legal actors from the 11 countries to apply to participate in JSCA Week 2022. Space is limited. Applications can be submitted here.
Countries:
Colombia: Monday 26, 12pm Colombia time
Mexico: Monday 26, 4pm Mexico time
Argentina: Tuesday 27, 12pm Argentina time
Peru: Tuesday 27, 4pm Peru time
Ecuador: Wednesday 28, 12pm Ecuador time
Guatemala and Nicaragua: Wednesday 28, 4 pm Guatemala / Nicaragua time
Dominican Republic: Thursday 29th, 12pm Dominican Republic time
Costa Rica: Thursday 29th, 4 pm Costa Rica time
Bolivia: Friday 30, 12 pm Bolivia time
Brazil: Friday 30, 4 pm Brazil time
The Justice Studies Center of the Americas (JSCA) is an inter-governmental agency with technical and operational autonomy that was established by resolution of the General Assembly of the Organization of American States (OAS) in fulfillment of the mandates of the Plan of Action of the Second Americas Summit (Santiago, April 1998) and the recommendations adopted during the Meetings of Ministers of Justice or Other Ministers , Prosecutors, and Attorneys General of the Americas (REMJA).
JSCA provides technical assistance to governments, judicial branches, public prosecution services, and other justice institutions; develops technical studies and generates empirical evidence; facilitates the exchange of information and best practices at the regional level; and provides specialized training to justice sector operators and public policymakers in the countries of the Americas.