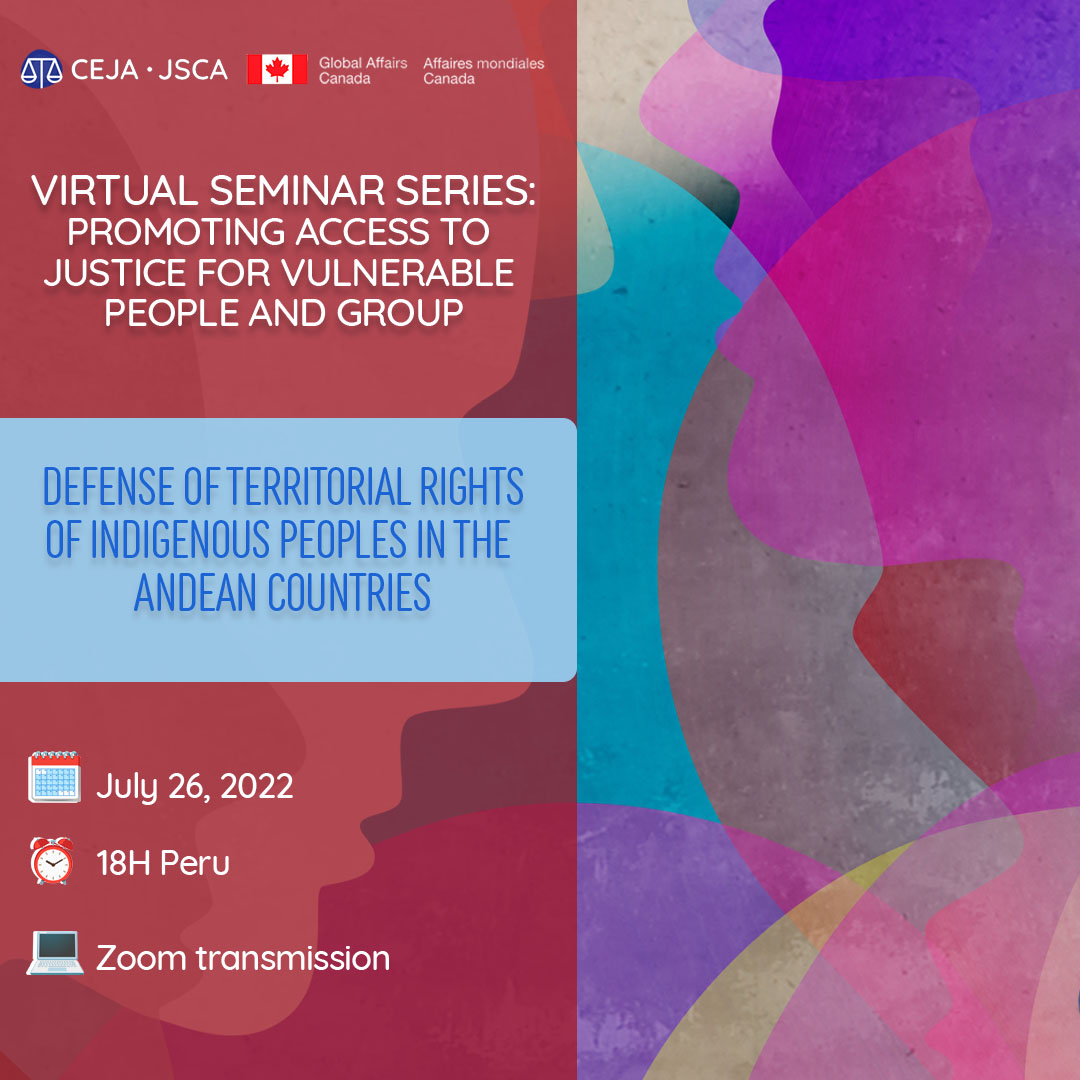 The Justice Studies Center of the Americas (JSCA) announces the third seminar of the JSCA Virtual Seminar Series – Promoting Access to Justice for Vulnerable People and Groups, which will address the Defense of Territorial Rights of Indigenous Peoples in the Andean Countries and will be held on Tuesday, July 26 between 6:00 and 7:45 p.m., Peru time.
The Seminar Series is part of JSCA's effort to focus the regional debate on access to justice and the intersectionality of vulnerabilities, and is organized within the framework of the Project "Improving Access to Civil Justice in Latin America," implemented with the support of Global Affairs Canada (GAC).
The objective of this seminar is to generate knowledge and reflection on the main challenges faced by indigenous peoples in access to justice, from an intersectional perspective, in order to generate new momentum for the regional agendas in the Andean countries. The seminar's program will include the following presentations:
Opening remarks of the event, María del Carmen Maldonado Sánchez, JSCA Counselor.
The defense of the territorial rights of indigenous peoples: Main challenges in Latin America, Tarcila Rivera Zea, President of the Board of Directors of the Center for Indigenous Cultures of Peru (CHIRAPAQ), Peru.
Successes and challenges of the justice system in the face of conflicts arising from territorial rights, María del Rosario Arango Zambrano, Project Manager for Colombia, Forest Peoples Programme.
The defense of land: How do conflicts over territory affect native women?, Susana Saavedra Badani, CONSTRUIR Foundation, Bolivia.
Access to justice in pandemic times. Differential impact on restitution actions of ethnic territorial rights, Gloria del Socorro Victoria Giraldo, Magistrate Civil Chamber of Land Restitution, Superior Court of Cali, Colombia.
JSCA invites representatives of justice institutions, civil society organizations and the general public interested in contributing to the construction of a community of knowledge on access to justice for vulnerable individuals and groups to participate.
Registration is required to access the event through the Zoom platform. Registration here. (Seminar in spanish)
The Justice Studies Center of the Americas (JSCA) is an inter-governmental agency with technical and operational autonomy that was established by resolution of the General Assembly of the Organization of American States (OAS) in fulfillment of the mandates of the Plan of Action of the Second Americas Summit (Santiago, April 1998) and the recommendations adopted during the Meetings of Ministers of Justice or Other Ministers , Prosecutors, and Attorneys General of the Americas (REMJA).
JSCA provides technical assistance to governments, judicial branches, public prosecution services, and other justice institutions; develops technical studies and generates empirical evidence; facilitates the exchange of information and best practices at the regional level; and provides specialized training to justice sector operators and public policymakers in the countries of the Americas.