JSCA Executive Director Nataly Ponce traveled to Berlin March 21-25, 2022 at the invitation of the German Federal Foreign Affairs Ministry to participate in several activities in the context of the Center's collaboration with the German government.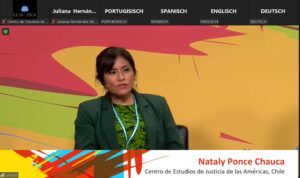 Ponce served as a panelist at the meeting of the Women United Network for Latin America, the Caribbean and Germany (Red de Mujeres Unidas, UNIDAS). Germany's Federal Foreign Affairs Minister Annalena Baerbock offered the opening remarks, expressing her concern about the femicides that place Latin America and the Caribbean among the most dangerous regions in the world for women and girls. On behalf of JSCA, Nataly Ponce highlighted programs designed to raise awareness and train justice system operators about gender violence against women. She said that these efforts must be complemented by tools focused on guaranteeing the quality of the sentences, swift processing of cases, victim-centered approaches, and indicators for monitoring the progress made by justice systems in the area of gender.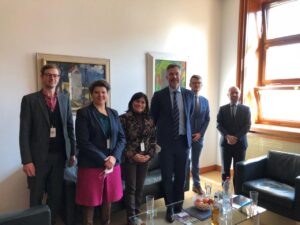 Ponce also met with the team from the German Federal Foreign Affairs Ministry's Division of Strategic Affairs for Latin America – Relations with Southern Cone States, which is led by Mr. Enrique Brandt. The team discussed joint efforts to support the rule of law in the Americas by strengthening justice systems. They also talked about the activities that JSCA is executing with the support of the German government, such as virtual courses for judicial operators on the application of the gender perspective in justice administration.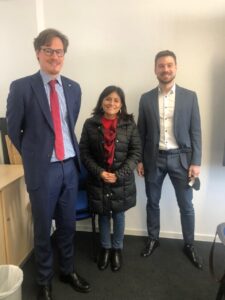 Nataly Ponce also met with  Johannes Hügel and Thomas Schaumberg, representatives of the central offices of the Konrad Adenauer Stiftung Foundation (KAS). They discussed joint publications on prison systems in the Americas and identified topics of shared interest that the entities can address jointly in the short- and medium-terms.
During the Women United Network meeting, our Executive Director established contact with representatives of various German civil society organizations, including the National Council of German Women and the German Institute for International and Security Affairs. They agreed to exchange information and publications.
To close this visit to Berlin, JSCA became a member of the UNIDAS Network. This is the first women's organization that our institution has formally joined.