JSCA presents the new publication "CEJA-JSCA ® Working Paper. Technology, Criminal Proceedings, Hearings and Oral Trial" The document, which was developed by judges, academics and experts in technological developments, seeks to provide an initial basis for discussion in order to approach solutions to address the challenges posed by the situation of Covid-19. It weaves together regulatory aspects, standards and principles with electronic platforms, providing preliminary solutions that we trust will offer tools for improving the justice system's response.
Jaime Arellano, Rafael Blanco, Laura Cora, Mauricio Decap, Eduardo Gallardo, Fernando Guzmán, Leonardo Moreno and Manuel Quilichini participated in the initiative.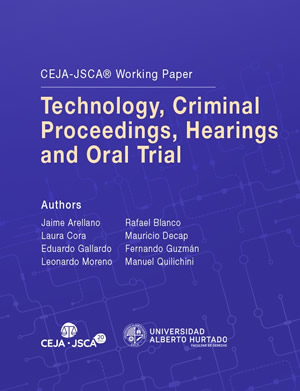 The Covid-19 pandemic has impacted health, society, economics and daily life in countries around the world and has generated an enormous number of challenges that must be addressed. It has also generated unprecedented difficulties in the area of justice systems. Hearings and indeed entire proceedings have been postponed and rescheduled, and urgent matters have had to be conducted with significant restrictions in place. In response, legal interpretations have been developed and technological applications have been adapted for that purpose.
The return to normalcy will take time and will happen slowly, and though it will happen at some point, the system will have to process all of the cases that were postponed. This will generate delays and will impact citizens' rights, and that must be observed and addressed.
These delays have serious impacts in the area of criminal justice because there are cases in which individuals are detained pending decisions in their cases, defendants who are free while they await a final decision about their particular situations, victims with legitimate demands for resolution and justice in their cases, etc.
Click here to download the pdf.