The Justice Studies Center of the Americas (JSCA) and the Institute for Comparative Studies in the Criminal and Social Sciences (INECIP) present a new issue of Judicial Systems Journal. The main topic of the issue is criminal analysis in the region's public prosecutor's offices based on perspectives and experiences from over 10 countries.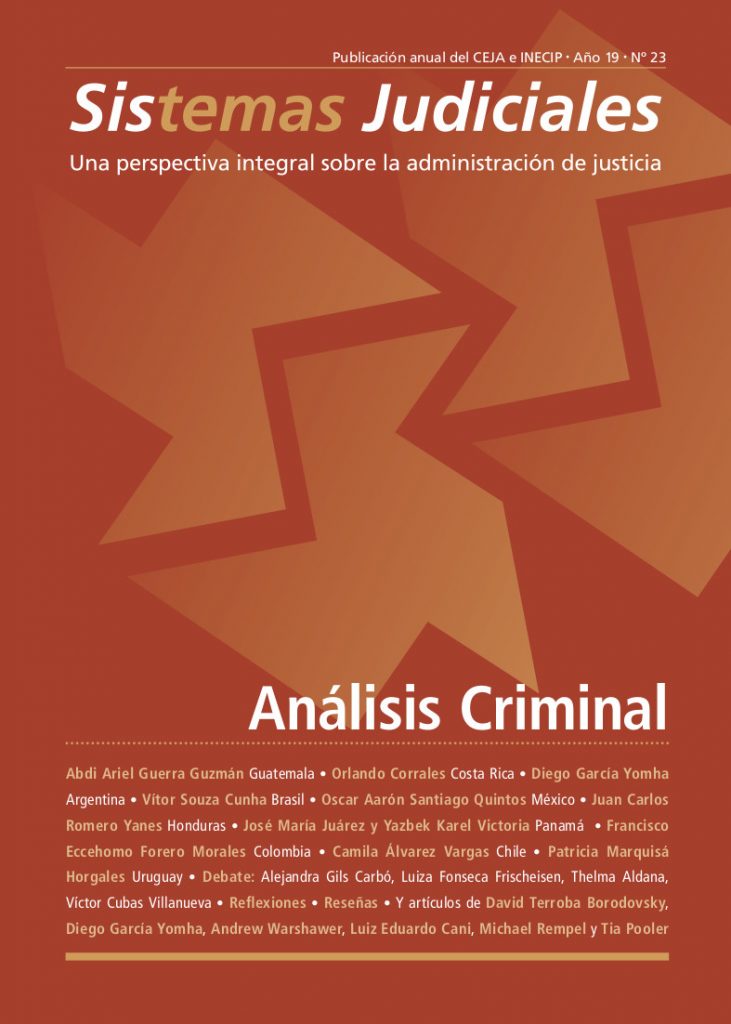 Issue 23 of the journal starts with a discussion of the need to understand criminal phenomena and organizations, which have become more professional and have improved their skills, in order to provide adequate responses to genuine social demands and to contribute to democratizing the justice system.
In this context, it explores the roles of Latin America's public prosecutor's offices in the creation of criminal analysis offices and the design of strategic prosecution plans. The new issue focuses on the most important regional advances related to the criminal analysis of specific criminal phenomena that serve as an experience for marking the path towards strategic and democratic prosecution.
The journal is directed by Leonel González (JSCA) and Gonzalo Rua (INECIP). The contributors to this issue are: Abdi Ariel Guerra Guzmán, Orlando Corrales, Diego García Yomha, Victor Souza Cunha, Oscar Aarón Santiago Quintos, Juan Carlos Romero Yanes, José María Suárez y Yazbek Kari Victoria, Francisco Eccehomo Forero Morales, Camila Álvarez Vargas, Patricia Marquisá Horgales, David Terroba Borodovsky, Andrews Warshawer, Luiz Eduardo Cani, Michael Rempel and Tia Pooler. The discussion section presents opinions and analyses by Alejandra Gils Carbó (Argentina), Luiza Fonseca Friescheisen (Brazil), Thelma Aldana (Guatemala) and Victor Cubas Villanueva (Peru). Finally, the journal also includes book reviews and short pieces on other topics related to justice administration.