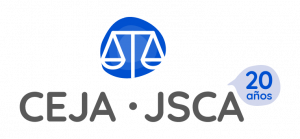 On Friday, November 15, 2019, the Justice Studies Center of the Americas (JSCA) will celebrate its 20th anniversary. JSCA was created in 1999 by resolution of the General Assembly of the Organization of American States (OAS) at the recommendation of the Meeting of Ministers of Justice or other Ministers or Attorneys General of the Americas (REMJA).
JSCA has promoted the transformation of justice systems in Latin America using a technical perspective and comprehensive public policy vision. JSCA Executive Director Jaime Arellano explains how the work has been developed: "Our first strategic objective was to address criminal justice systems. We developed research in order to propose changes designed to make criminal investigation and punishment and the protection of guarantees of all people facing criminal prosecution more effective." (Watch video)
Arellano also states that JSCA "has proposed a new model of civil justice centered on the conflicts that are most important to communities, using the best methods to solve those conflicts and seeking out lasting agreements or decisions that contribute to social peace." (Watch video)
JSCA's key objectives are to conduct in-depth studies of justice systems and develop innovative approaches to the discussion of judicial reforms, to promote cooperation and the exchange of experiences among key justice sector stakeholders at the regional level, and to generate and disseminate instruments that improve the quality of the information available on justice in the Americas.
Over the past two decades, JSCA has been the Inter-American System agency that provides technical assistance to governments, judiciaries and other regional justice system stakeholders. The entity develops research and offers specialized training programs for judges, prosecutors, public defenders, litigators and public policy designers.
The Center's efforts to support justice system reform and modernization processes in the Americas are focused on areas such as criminal justice reform, civil justice reform, judicial government, institutional management, access to justice, collaborative dispute resolution methods, at-risk groups, and gender and justice.

"The challenge of the coming years will be to ensure equal access to justice, actively working to eliminate gender inequities and integrating the social context into the way that disputes are heard and resolved. Only then will we be able to develop dispute prevention and resolution mechanisms that can be understood, legitimated and supported by local and national communities and the continent as a whole," explained JSCA's Executive Director. (Watch video)
About JSCA
The Justice Studies Center of the Americas (JSCA) is an international agency of the Inter-American system that enjoys technical and operational autonomy. Its mission is to support justice system reform and modernization processes in the Americas. JSCA's headquarters is located in Santiago de Chile, and its members are all of the active member states of the Organization of American States (OAS).