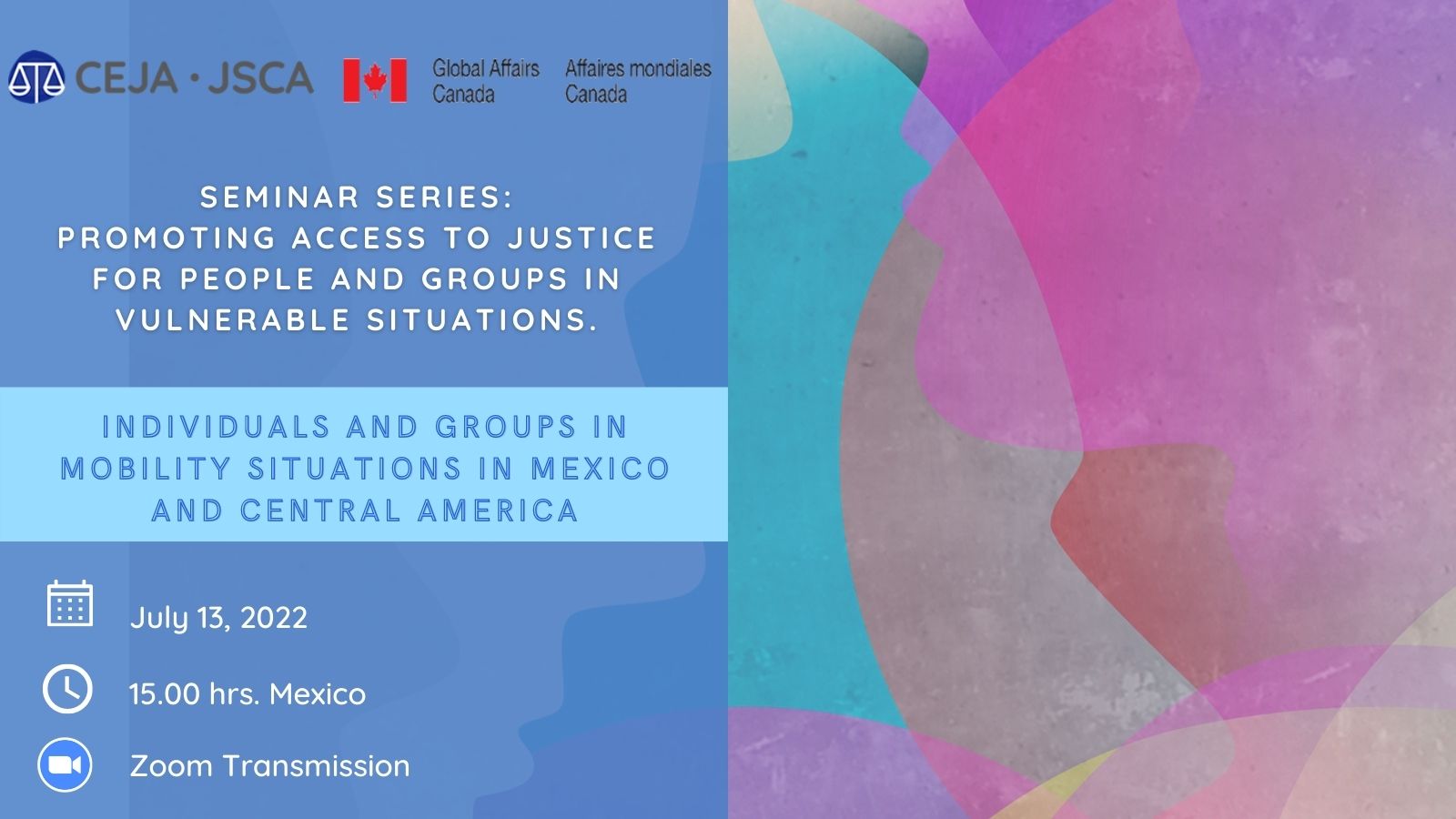 In an effort to provide spaces of dialogue on the progress made and challenges faced by the countries of the region in regard to effectively implementing access to justice mechanisms for at-risk individuals and groups, the Justice Studies Center of the Americas (JSCA) is pleased to invite civil society organizations, representatives of justice institutions and the general public interested in helping to build a community of knowledge on access to justice for at-risk individuals and groups to participate in a new online seminar series.
The series is being developed with the support of Global Affairs Canada (GAC). JSCA's seminar series "Promoting access to justice for at-risk individuals and groups" is designed to identify future lines of action for strengthening access to justice for at-risk groups and ensuring the sustainability of the progress that has been made from a gender and intersectional perspective.
The first seminar is titled Access to Justice for People on the Move in Mexico and Central America. It will be held on Wednesday, July 13, 2022 from 3 p.m. to 5:30 p.m. Mexico time.
The purpose of the event is to develop the foundation of a thematic regional agenda on the specific role of criminal and other justice institutions in protecting the rights of people on the move. It will feature the following panelists:
Ana Lorena Delgadillo, Foundation for Justice and the Democratic Rule of Law (FJDD), Mexico
Gretchen Kuhner, Institute for Women in Migration (IMUMI), Mexico
Mercedes Pérez, Menonite Social Action Commission (CASM), Honduras
Gabriela Mundo, Human Rights Ombudsperson's Office (PDH), Guatemala
Araceli Peña, Independent Monitoring Group of El Salvador (GMIES)
Ana María Méndez Chica, International Labour Organization (ILO), Guatemala
Registered participants may access the content via Zoom (Seminar in Spanish). Click here to register.
The Justice Studies Center of the Americas (JSCA) is an inter-governmental agency with technical and operational autonomy that was established by resolution of the General Assembly of the Organization of American States (OAS) in fulfillment of the mandates of the Plan of Action of the Second Americas Summit (Santiago, April 1998) and the recommendations adopted during the Meetings of Ministers of Justice or Other Ministers, Prosecutors, and Attorneys General of the Americas (REMJA).
JSCA provides technical assistance to governments, judicial branches, public prosecution services, and other justice institutions; develops technical studies and generates empirical evidence; facilitates the exchange of information and best practices at the regional level; and provides specialized training to justice sector operators and public policymakers in the countries of the Americas.