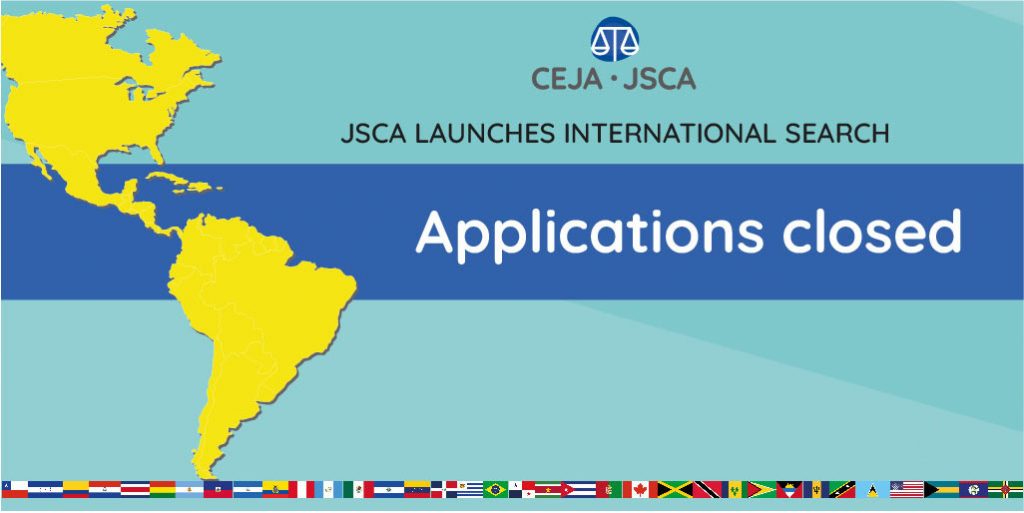 The Justice Studies Center of the Americas (JSCA), www.cejamericas.org, an international organization created by the inter-American system to support justice system transformation processes throughout the region, announces this International Call for Applications for the Position of Executive Director of the institution for the period 2022-2025.
The Executive Director is responsible for directing the Center's areas, staff and financial resources at the executive level in fulfillment of the institutional mission, multi-year strategic objectives, plans of action and the annual budgets approved by the Board of Directors, as well as the objectives of projects agreed to with donor institutions.
Main responsibilities:
To plan the institution's activities.
To manage the Center's relationships with governments and justice sector institutions.
To manage relationships with the members of the Board of Directors.
To seek out funding and manage relationships with funding sources.
To hire, oversee and evaluate the institutions' staff.
To supervise the administration of the institution.
To serve as the institution's legal representative.
To oversee and participate in the Center's research, studies, projects, and training programs.
The position must be served at JSCA's headquarters, in Santiago de Chile. The successful candidate will begin its duties on 2 January 2022. The person selected must be available for an in-person transition period, beginning at the end of October 2021.
The conditions and requirements of the position are listed on the application website www.cejamericas.org. Strong preference for graduate training in law, public administration, or public policy. Applications must be made exclusively through the application form hosted on the institutional site. Applications will not be received by any other means.
Application period ends on June 3, 2021 at 11:59 p.m. (Santiago de Chile time).